Leadership and Recognition
Alliance was founded in 1991 by our Principal Hydrogeologist and President, Mr. William "Bill" Smith, P.G. Mr. Smith is the former Director, Chief Operating Officer, and Senior Vice President of Technology for the former Groundwater Technology, Inc. (GTI). Under Mr. Smith's direction, GTI had flourished from a two-man company into an international $150 million environmental consulting firm. In 1991, Mr. Smith formed Environmental Alliance, Inc. His goal was to create an environmental consulting firm dedicated to superior customer satisfaction while providing a positive and rewarding work environment for employees in an effort to restore the environment.
The two principals of the firm, William Smith, P.G. and Paul Miller, P.E. have managed the firm together since 1993 (over 20 years). Being an employee-owned firm, we are acutely aware of just how important each and every customer is to the future of the firm. Alliance thrives on the challenge of living up to the standards of our larger competition while delivering a rare, personal touch. Our senior managers each have over 25 years of soil and groundwater assessment and remediation experience on a range of project types. Several customers source Alliance for all of their environmental needs, no matter where the site is located. Our mid-level managers average over 10 years of professional experience, directing the field operations at a level rarely seen at most firms.
Alliance started in Delaware servicing the Mid-Atlantic region in 1991, and opened its first branch office in Middlesex in 1997 due to client demand. Since 1997, Alliance has opened three other branch offices and is currently looking to expand into the northern New York and North Carolina environmental markets.
---
Alliance Key Contributor Award
Mr. Harley Yerkes - August 2015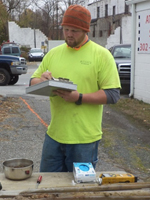 Over the last several months, Mr. John Yerkes "Harley" has stepped up in a big way, and took on new responsibilities in relation to our Brownfields, Debris Pit Remediation, and DNREC-SIRS projects. His professionalism, work ethic and accountability have been noticed by several senior managers at Alliance in this capacity. During various client meetings and conference calls, he has taken the lead and has been responsive to our clients and their needs / concerns.
He truly exhibits our commitment to providing quality, responsive service to our clients by maintaining good communications with our customers, and providing a knowledgeable, professional approach.
Mr. Simon Mullen - February 2015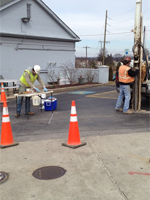 On Sunday, August 10th, 2014, Simon mobilized to a client site in Paterson, NJ and oversaw emergency response contractors (all while dealing with a broken foot). According to the client and the compliance company brought in to assist with the tank line repairs, Simon worked around the site the entire time…gauging wells, documenting field conditions, and staying involved in the emergency response. He remained on site for a few days, and our client was very happy with his professionalism and involvement in the project. Simon consistently exhibits our commitment to providing quality, responsive service to our clients.
Mr. Mark Harris - August 2014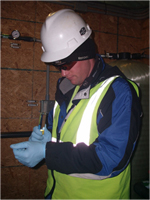 In the past six months, Mark has shown many leadership skills in his new capacity, including: ideas to improve procedures, integrity, delegation skills, and a unique ability to inspire other staff members. Starting with his 6-year anniversary this past December, Mark is now qualified to conduct Phase I reports and has eagerly accepted the responsibility. In this past 6-month period he has completed approximately 8 Phase I reports, 5 of which resulted in additional Phase II work for which he was responsible for planning and implementation.
Over the past year, Mark has transitioned from the field to more of an office/management role and has gained a better understanding of productivity, quality, project timelines, budgets, and priorities. His range of services has included: maintaining site databases for remediation systems, statistical analysis, report writing, proposal/budget writing and scoping, and acting as an overall task manager for multiple projects with multiple tasks. Mark received his Green Card (MD equivalent of TWIX) and has also (on his own time) successfully completed CPR training.